TYPES OF EYELASHES YOU SHOULD KNOW
False eyelashes are a great option for individuals who may think their own lashes are too short or not full enough, even with the aid of mascara. For those in the theater and entertainment world, mutiple types of false eyelashes are a must.
Help People on the false eyelashes.
Today, false eyelashes are available in a wide variety of styles, sizes and types. The big news is that nearly every haute couture makeup artist places heavy accent on the eyes. Dark, smoky eyes with a thick fringe of lashes add just the right style of nuance and are increasingly becoming a popular look.
People love false eyelashes
Planning to apply false eyelashes but do not know what types of eyelashes there are? Here is the right place for you to learn about the various types of eyelashes. Each individual type has its own unique effects on your eyes and your overall appearance. Thus, it is best to first learn about all the different types that fit your personality and preference, before you actually spend money and time on the eyelashes extension service.
From different demand for the different crowd.
There are 3 main types of false eyelashes: Strip lashes, individual flare lashes, and individual single lashes. Before purchasing and using false eyelashes it's important to know the differences in the options available.
Strip Lashes
The most common type beginners seek out is strip lashes. Lashes Amor false mink eyelashes are one of the highest quality lashes on the market and are made from 100% mink. Other brands may use synthetics like plastic and silk, or use human hair. The style and color you choose will depend on your personal preference, budget and the expected look you want. Strip lashes are versatile and can be trimmed to custom fit your eyes or to achieve a specific length. Most beginners will need a few practice trials before perfecting the skill so it's always best to not trim off too much too soon.
Individual Flare Lashes
Individual flare lashes are more commonly used by makeup artists, and are applied individually instead of all at once like strip lashes. They are a big help in increasing lash fullness and to fill in sparse areas. Flare lashes typically come in 3 different lengths and are great because the person applying them has a lot more control on how the end result will look. Layer them for a more voluminous look or to make a statement, or add just a few around the outer area of the eye to create flared lashes.
Individual Single Lashes
The biggest difference between individual single lashes and the first 2 types mentioned is that single lashes are mostly used for eyelash extensions and are more permanent. Strip lashes and flare lashes are made for temporary wear. Single lashes are also usually applied by a professional in a salon, due to the amount of time and expertise needed to apply them correctly. Like flare lashes, they may be used to fill in sparse areas or make lashes more full.
The type of false eyelashes an individual chooses should take into consideration the application process and whether or not you are looking for a temporary or more permanent look. Choosing the right type of false eyelashes greatly depends on the look you are trying to create and the reason you are seeking out false lashes in the first place.
Different material for false eyelashes
Mink Eyelashes
Mink eyelashes is the most common among celebrities. Minks are known for best achieving natural-look, because they are made from real hair. This type of eyelashes is suitable for those who are looking for natural, light yet luscious look. In additional, mink eyelashes are very thin. As a result, they tend to last longer because they will not weigh down your natural eyelashes.
Faux Mink Eyelashes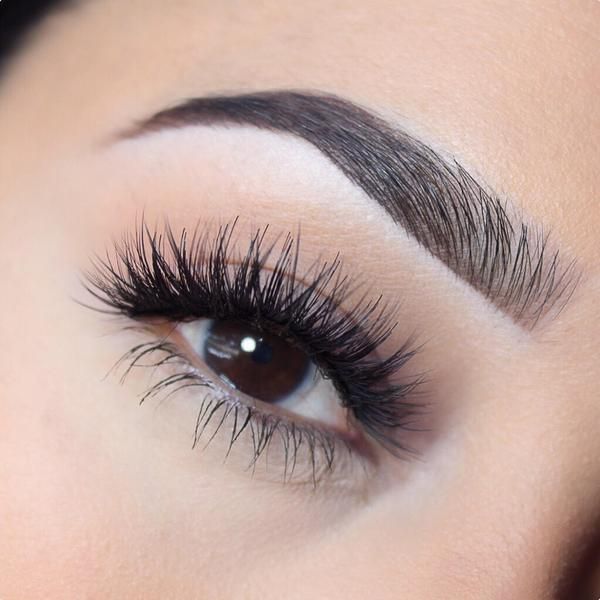 Like the mink eyelashes, but synthetic! So why this type? For starters, they tend to provide the same look and feel of regular mink eyelashes, but for a lower cost. They are also a perfect vegan option if you don't want to use real hair!
Another cool advantage about this type of mink? They will not lose their curl effect if they get wet, convenient right?
Sable Eyelashes
Sable eyelashes are made from the fur of the Sable (a forest animal found in Russia and Siberia). Sable eyelashes are highly similar to that of mink eyelashes, except the fact that sable eyelashes are the thinnest lashes of all types. This is ideal for those who really appreciate naturally thin lashes and do not like thicker options. Sable eyelashes will not weight down your natural eyelashes and can create a wispy look.
Silk Eyelash Extensions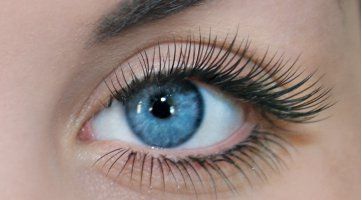 A great option for those who are allergic to certain furs, want to spend less, or are vegan!
Silk eyelash application are the happy medium between mink and synthetic when it comes to natural appearance and thickness of the lashes. A unique trait that silk eyelash aplication tend to have are their fuller appearance. They tend to be thicker at the bottom and gradually become thinner towards the end, leaving the appearance of a fuller lash line.
While we are talking about happy mediums, silk lashes tend to look both natural and glamorous! That is because the lashes themselves are darker, fuller, glossier, and quite bold. If you like a bit of drama, these lashes are the ones you're looking for!
Still on the fence? Well, these lashes require very little maintenance. That means you can swim, bathe, and play sports without a single worry of these lashes losing their curl or falling out! These false eyelashes also tend to be much cheaper than the real furs (minks and sables).
Synthetic Eyelashes
Synthetic lashes are for those who are looking for a bold, glamorous look. No real fur will be used for this type of eyelash extension. As a result, it will be significantly cheaper. After the synthetic eyelash extension, there won't be any need for mascara and other touch-ups, any longer!
Summary
Different types of eyelashes application can achieve uniquely different results for the overall look. Take time to study different types. Whether you prefer light, natural eyelashes or bold, glorious eyelashes, there will always be the perfect type of eyelashes for you!